Theory of Change
ERIKS Development Partner
ERIKS' theory of change, towards a better world where children's dreams come true
ERIKS Development Partner (ERIKS) operates within a continuously changing world. ERIKS' development work and commitment to the fulfilment of the rights of the child is guided by its identity and its values: the spirit of Erik Nilsson (the founder of ERIKS), Christian values and the UN Convention on the Rights of the Child (UNCRC).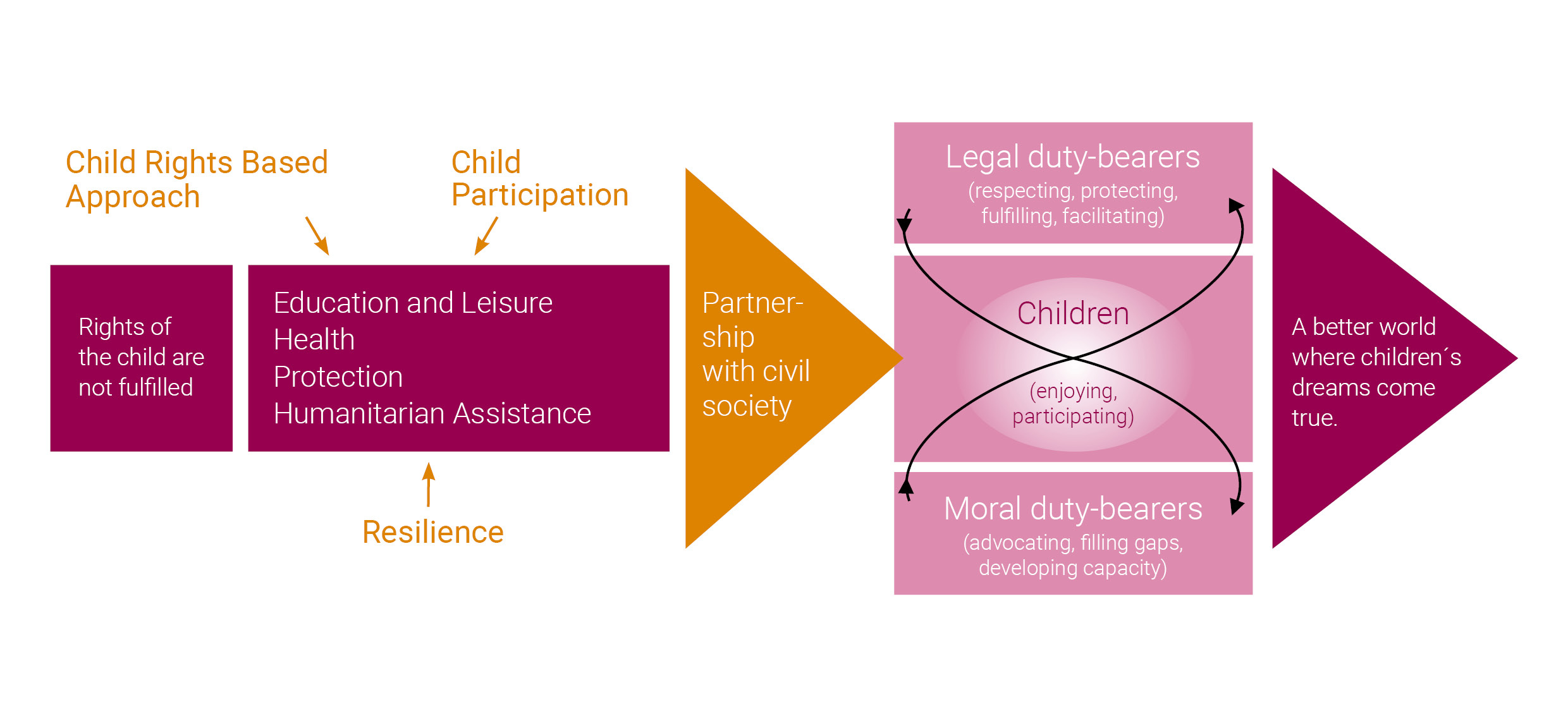 Above illustration aims to describe ERIKS Theory of Change. The process of change is complex and therefore it is important to note that the theory is a simplified picture of reality where the process is not linear but characterised by interactions between different actors and the use of different strategic approaches.
At the starting point are situations where the rights of the child are not fulfilled, which is motivating change. Violations of children's rights are closely connected to situations of poverty and vulnerability. As further explained in the next section ERIKS' works within four thematic areas; Education and Leisure, Health, Protection, Humanitarian Assistance and Disaster Risk Reduction. In its work to promote positive change, ERIKS identifies working through and together with the civil society as strategically important. A vibrant civil society is essential for a peaceful and democratic development. Therefore, partnership with local civil society actors is the entry point for ERIKS in its child rights work and the reason for its shape and position in the illustration. Through its partner organisations, ERIKS collaborates with a wide range of key actors and change agents, moral duty-bearers and legal duty-bearers, surrounding the child, who all have the possibilities to contribute to the fulfilment of the rights of the child.
Progress towards ERIKS' vision will be made when the change agents take on their roles and responsibilities. This requires that they are given the possibilities and capacities, courage and tools to interact and promote the best interest of the child. ERIKS' has summaries our work on this in a number of strategic approaches, highlighted in yellow in the illustration; Child Right-Based Approach, Child Participation and Resilience.
| | |
| --- | --- |
| | Development Policy PDF |